Interview: Mara Appel Des Lauriers of LITTLE OBSESSIONS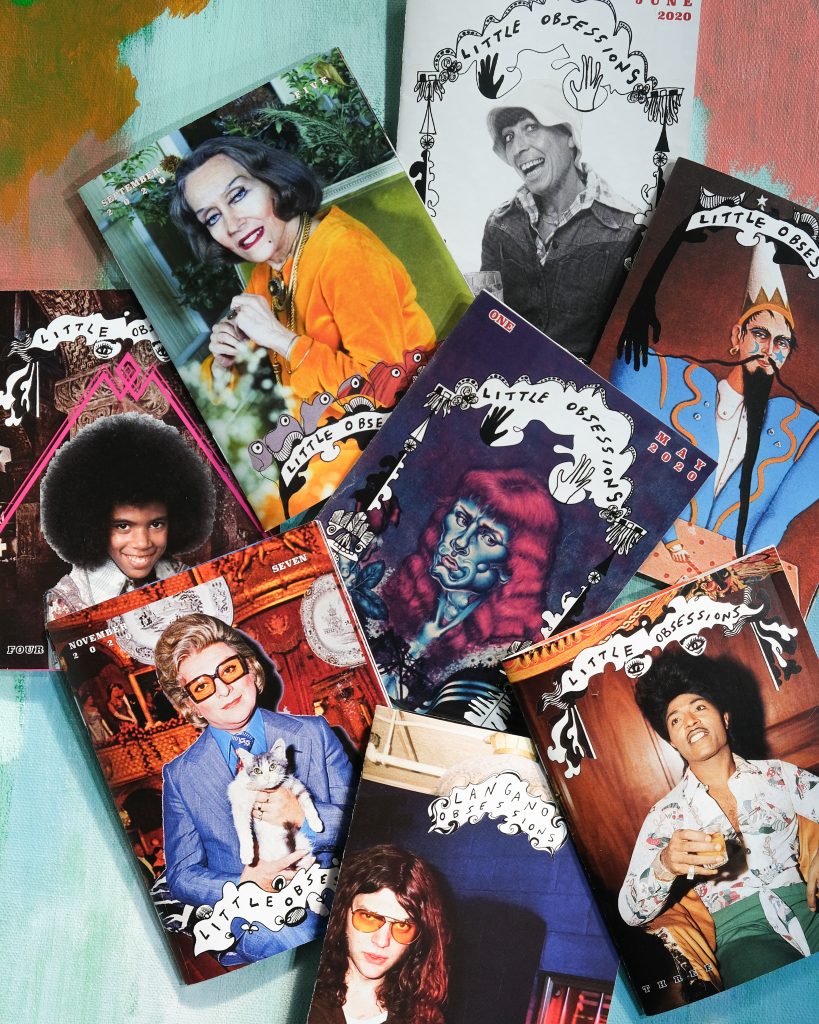 LITTLE OBSESSIONS is a nugget of pure, uncut inspiration, exploring OUTSIDER ART, FILM FREAKS, SONG WORSHIP, UNDERAPPRECIATED MUSICAL ICONS, INSPIRING WEIRDOS, TWISTED PLACES, and much much more coming from a personal place. In this 20 page monthly zine you will find artist interviews, freaky art biographies, original cartoons and collages, art & writing submissions from under appreciated and often underrepresented voices and visions, fun facts and eye candy, and of course, plenty of SCANDAL. The project is curated, designed, edited, written and assembled by hand by artist and musician Mara Appel Des Lauriers, who is based in Portland, Oregon by way of Minneapolis, Minnesota.
Tell us about your creative practice! You create amazing paintings, collage, zines, mixtapes, music and have incredible personal style. It seems like your whole life is art! What motivates you to create?
Awww THANK YOU!! I'll tackle these bit by bit.

FASHION & STYLE
Yeah, my style is just that! I really like to dress up and I feel I've done a good job when I am hard to look at, too much information, a disco/glam villain moment. That's when I feel most me. Some looks lately have been really inspired by 80's pro-wrestling and LUCHA LIBRE drag. Patterns. As many as I can get on me. This year, I've been collecting gingham and like to mix all the ginghams together. I like to embellish my clothes with studs and rhinestones. These days it's not every day, but when I'm best it should be too much.

MUSIC
I do listen to a lot of music, I really love my records in particular. I get lost in Youtube wormholes when I get excited about something and need to fuse to it. My apartment is full of my paintings and lots of art on the walls. I buy a lot of art from my friends and artists who I admire (when I can manage, really wish I could more). It's important to support creative people in this capitalist hellhole. I have Liberace records prominently placed in my painting room (style icon, what a life), lots of books, thrift store art, bric-a-brac, photographs, totems, special garbage everywhere.

PAINTING
Painting is a joy. I love colors, I love people, and I mostly paint people doing weird stuff. I love to blast music on a sunny day and just go about it slowly- pick out my colors- just make it an event. All three of my cats surround me when I paint, so I think it's a party for them, too. I am pretty new to painting, so there's a lot with it that I would love to do that I haven't been able to do, such as create scenes and sets with others and photograph them, to then paint. I've never painted from life, which I'd love to try. I work from photos and drawings, so usually I have a composite source image that I paint from. I make a collage, then paint it, for a lot of them.

MIX TAPES
The mix tapes were spearheaded by Sarah Rose (my bandmate in Candace and creator/designer of faded era everlasting floral!). I think we're missing DJing for people, which is something we did in the before times at The Hungry Tiger in Portland once a month with our other bandmate Sarah Nienaber (Blue Tomorrows, who is also responsible for the mixtape image below!). Mixes have served as a foundation of our friendship forever… they can really transport you back to what was happening in your life, and all the feelings within that are hard to name but belong to a specific time. It's a fun way to collaborate and combine our love of tunes, album/tape art, creating a vibe and sharing something small and special with others through the mail. Something about it. We release a limited amount of new mix tapes on the 20th of the month, over on the LITTLE OBSESSIONS website.

ZINES
The zines have maybe a more clear motivating force: a desire to share, to be heard, question stuff, celebrate and discover stuff, experiment, to make a place where others can do the same. It's cool that it's become a way for me to keep my activism more financially sustainable, because people need more support than ever.
How did Little Obsessions come to be as a zine? Have you made other zines in the past?
Well, before the pandemic hit, I was feeling pretty good about where I was heading. I was about to start fashion school, I got a second bar job so I could maybe stop worrying constantly about making ends meet. My goal at the time was to just make enough money so I could finally subscribe to RAWVISION magazine, this incredible resource and quarterly periodical exploring and documenting "outsider art" that's been around for decades. The brakes were slammed on everything, and my dreams of being able to afford that resource were again dashed for the foreseeable future. So with all the time I found I had, I thought maybe I would just make my own magazine, the kind I would like to read. I was making some strides with painting and wanted a way to show people that wasn't Instagram, but also felt that even if the pandemic wasn't going on, I couldn't count on waiting around to be invited to spaces where art is shown and "legitimized".
Thinking about these kinds of things gets me worked up: the gatekeeping and taste-making, manipulation, commodification and exploitation in all of the art and performance spheres. I thought LITTLE OBSESSIONS could be a complete alternative to what stories/imagery/approaches/art/thoughts get legitimized through print. Right now it's small but it's my attempt at imagining a different way of doing things. I have never made zines in the past, and am only now starting to connect to people in the zine community.
What got you interested in making collage? Where do you find your materials?
Collage with paper is something I started doing on a regular basis making pieces for show flyers for the band I'm in, Candace. I consider the first collage I ever made to be my bedroom wall when I was a preteen, that kept morphing and evolving into my mid teens. It was kind of iconic, I wish I had a picture. When I get dressed, I approach it like a collage. I have lived in my apartment here in Portland for over nine years now, so lots of materials have been left behind from former inhabitants. My good friend and brother-I-never-had Jud had a huge collection of art books, 70's workbooks and art & history encyclopedias that he left behind for me before moving to New York City, so those get mined for goods/inspiration. My main squeeze for collage material though is National Geographics from the 60's through the early 80's. Thrift stores are the best for collage materials.
Reading LITTLE OBSESSIONS every month is something to really look forward to! It feels like a true deep dive into what you're passionate about. Do you have a method of selecting the topics, features and interviews?
Thank you so much for that! I am really glad you are feeling that way. I try to come at it from a place of exploration and appreciation, because I'm not a historian, I'm no expert on anything – but I am extremely enthusiastic. Also people are complex, they are a mix of so much, so I can really only speak for myself and how things make me feel and relate to my life and experiences. Art, stories, songs, films etc., can change people's lives, save them even, which is weird and amazing. When selecting topics, I try to pick stuff that seems loosely connected to whatever I'm going through at that time, or have been through and need to set free. I have a big list going of things I want to cover, people I want to talk to, and sometimes they clump together and connect.
What is your process like when working on an issue of LITTLE OBSESSIONS? Was putting together the Visual Issue vastly different than usual?
Yeah the process was very different, but super fun. It took some pressure off of me, because this month I am getting ready to participate in the first ever exhibition of my paintings in a group show in San Diego called Beautiful Chaos. Big milestone for me that I didn't see coming, I'm really grateful and excited because no one besides my boyfriend, my cats, and a small few of my friends have ever seen my paintings in real life.
It was wild to just close my eyes and see what the universe would provide as far as content for the Visual Issue. I am super pleased, so many talented people submitted such amazing work. I do have a few photos I have taken in there too, to connect things. A shattered, nostalgic and dreamy thread ran through the submissions, and together I think they are striking. I want to keep spicing things up with LITTLE OBSESSIONS, keep experimenting with different approaches.
When it's time, I usually start with the collage pieces that run through the whole issue. I put a record on or something and extract stuff and vibe out. As the interviewees get back to me and as stories come together, I put the whole thing together in Adobe InDesign, and send it out to my local printer here in Portland called Impress, who I highly recommend. Then each and every magazine I fold, cut down, bind, and package myself. I make the magazine's monthly donation to BUFU on the 10th of the month.
Usually after I finish an issue, I step away. I spend two weeks of the month painting, working on music, writing to my pen-pal, scheming, talking to far away friends on the phone, or tied up in whatever. In those two-ish weeks little ideas flare up for the next issue, and I casually plant some seeds, make lists, send emails fishing for interviews, decorate envelopes. That will undoubtedly change on the other side of lockdown. Since it's only 20 pages each month, it's sustainable and takes an intense week and a half (give or take) of focus, so now that there's a rhythm, I'm really feeling like I can sustain it moving forward.
When working on a creative project, what artistic element is most important to you? Does it vary depending on medium?
With paintings, it's gotta be authentic and alive and kind of suck you in. I think good songs are like that, too. So those elements are going to change with the artist, and change with the piece or project every time (I think). I like stuff that's kind of brash and brutal and bright, but I also like stuff that's more meandering and sincere. What I like is all over the place. When I start talking about it in a general way I become messy and weird so it's better for me to take things bit by bit. When I paint, it's usually depictions of people, so if I am laughing while I am painting, that's a good sign. I like collages that take you to another world that references this one- for me, creating new crazy shapes is the most direct way.
Are there any creative endeavors you'd like to explore beyond the scope of what you're already making?
I'd love to be involved in filmmaking in some capacity someday. I'd love to learn how to carve wood and make sculptures. It's a dream of mine to paint a mural. I think I really need to keep trying to get a handle on painting. And when I am old and fabulous I will start smoking cigarettes again and finally write my book, which will be scandalous and honest. My hope with LITTLE OBSESSIONS is that it eventually morphs into publishing more substantial art books for visual artists/photographers/writers/whatever in a way that's beneficial and empowering for everyone involved. The big one though is creating safer/more interesting/anti-oppressive spaces, being more hands on about creating a better world in general.
What has surprised you the most in your career as an artist? On the other side of that, are there challenges or disappointments that you've experienced?
Well, my art career is just getting started. Like I mentioned, I am showing my paintings for the first time ever very soon, so that is wild. As far as visual art and the scene that might go along with that, I feel like the new guy in town and I have zero expectations. I have nothing to prove and I just love painting, and keeping it simple keeps it joyful for me. Making some new friends and learning would be an awesome side-effect to this new mode I'm in.
As for the magazine, I guess I am wondering what it's going to be like on the other side of all of this. If I have gotten LITTLE OBSESSIONS going under these conditions, I feel like the sky's the limit once lockdown is behind us. Who will I be able to meet and talk to in person for the magazine? Travel for a story, maybe? I can't wait to head to the big library downtown and drink too much coffee and write my articles there. Every time I get a response from an interview prospect, a submission, a "yes", a subscriber, a great conversation or new friend sparked by what I'm covering in the magazine, it's a surprise for me.
Most of my art career has been in the music/band life sector, drumming in bands etc. since 15. I miss that piece of my life so much. Most of my artistic disappointments have stemmed from abuses (and a culture of abuse) in that realm. Exploitation of dreams and optimism, sexism, racism, sexual abuse, ableism, narcisism. Shitty behavior. It's not just the music world by any means, it's everywhere. I've met my dearest friends through it all though, and I keep coming back to it, but it's something I hope all this time away has given us time to reimagine. I am hoping LITTLE OBSESSIONS can be a part of being honest about it, planning for something different, and healing around some of that stuff.

Some people believe that curating is an art form all in it's own. As curation is the driving force behind your zines, what do you think?
I think you can get a sense of a person's beliefs and passions through how they curate (and maybe why they do). If someone's expressing themselves through curation, I guess that makes it an art form. Collecting and presenting is a chance to reimagine, to feel something, so in that way I think, I'll give that a "yes" and say curation can be an art form.
How do you feel your work has progressed during your time as an artist? Are there moments where you've looked at a piece and thought to yourself 'yeah, this is the one?' or 'this feels like a breakthrough'?
Yeah, I definitely feel like my work has progressed. It's fun to grow, and I don't think that would be possible for me if I didn't learn how to trust myself. I've been in therapy for a while! It's freed me from restment of myself and certain events. Up until fairly recently, I have been so dogged by thoughts of not being enough, not being capable of making something that has value (to me), convinced that there was something wrong with me that couldn't be reasoned with. Those thoughts are still there, but there are a lot of new voices within me at the party, and they are louder, so that has been a breakthrough. What I'm trying to get at is that if people out there feel that way, they aren't alone and they aren't crazy. Shit is hard and life is a doozy and we all deserve a chance to do our thing.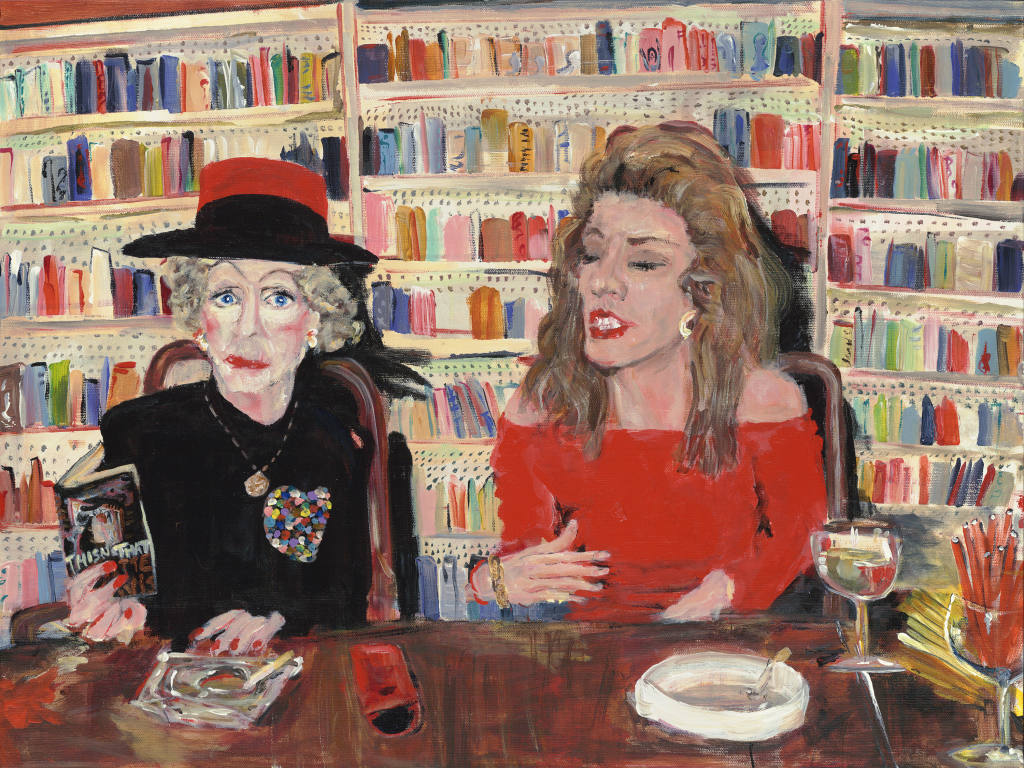 There were a few breakthrough moments I had with painting. Things started getting good with my Britney Spears painting- I started to not be afraid of using a lot of paint. But my first big triumph in painting was my Bette Davis w/ her assistant piece. The cool thing about painting is that you keep building things like faces in particular (for me), kind of screwing up and rehashing and building some more, and all of a sudden like magic it comes together by virtue of color and your own hand. The things you thought didn't work end up giving more life and dimension to the things that do work. Acrylic is forgiving like that, though, as well. Painting is just so fun, I swear it's like magic. That Bette piece also has my first attempts at capturing reflections in glass, gloss in varnished wood, books on a shelf, things like that.
With LITTLE OBSESSIONS, I think episode five was a breakthrough, but I am making new little discoveries and victories with it all the time.
---
Twin Cities Collage Collective would like to thank Mara for her time and insight into her creative world! We're always interested in hearing from the collage community about what they're creating — drop us a line and tell us what you're up to!
To subscribe to the zine, visit www.littleobsessions.art
Follow LITTLE OBSESSIONS on Instagram: @little__obsessions
Follow creator and artist Mara Appel Des Lauriers on Instagram: @hebrew_nugget
Approximately $1 of each and every copy of LITTLE OBSESSIONS is donated to BUFU (a collective of queer, femme, and non-binary Black and POC organizers de-centering whiteness and dismantling white supremacy, amplifying these perspectives and voices through experimental models of organizing and making).