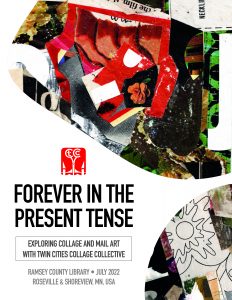 Twin Cities Collage Collective and Ramsey County Library are pleased to present FOREVER IN THE PRESENT TENSE, a collage mail art show on view from July 1-31 at Ramsey County Library's locations in Roseville and Shoreview, Minnesota, USA. Download a PDF of the show program here!
ABOUT THIS EXHIBITION
A variety of mail art is on view at two Ramsey County Library locations — Roseville
and Shoreview — throughout July 2022. In April 2022, Twin Cities Collage Collective
and Ramsey County Library distributed 100 mail art kits at no cost to the community,
inviting participants to share their work via regular mail or email to be part of a
community exhibit. Those works are exhibited here along with some selections
from the archive of active mail artist and Twin Cities Collage Collective founding
member allison anne (@allisonannecollage).

Additionally, 275 works from the global mail art community are physically on view
as part of this exhibition for the first time. In January 2020, Twin Cities Collage
Collective began organizing a mail art show to celebrate World Collage Day.
Originally intended to be installed in the community room at Boneshaker Books
in Minneapolis, the mail art call evolved with the changes 2020 brought — first, the
closure (and eventual re-opening) of Boneshaker Books, requiring a pivot to allison's
personal post office box as the mailing address; looking for a new exhibition space;
the beginning of the pandemic with its initial lockdowns and new global mailing
restrictions as COVID-19 surged; the destruction of the Lake Street post office
(55408) by fire during the George Floyd Uprising in May 2020, with an unknown
number of works mailed in for the show lost; and now, in July 2022, sharing this work
in person at Ramsey County Library. This mail art archive is an incredible visual
document of a quickly changing world from artists around the world.
ARTIST LIST
Click here to see the artist list. This information is also available to view in a spreadsheet.
LOST & RETURNED MAIL ART
Did you submit work to our 2020 open call, but don't see your name on the artist list? Your work may have been returned or lost during the post office fire in 2020. TCCC is seeking to create a record of this lost and returned work, and would appreciate any information & images you have regarding what you submitted. Please complete this survey.