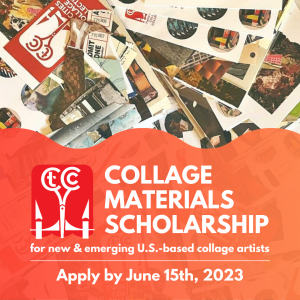 In May 2021, Twin Cities Collage Collective launched the Collage Materials Scholarship in an effort to support new and emerging collage artists! As of May 2023, we have distributed more than 100 packages of material to collage artists in the United States through this program.
Through this project, we provide a variety of unique vintage and contemporary paper-based collage material at no cost to the recipient to support their creative exploration. Receiving a mix of material can kickstart creativity and lead to fascinating breakthroughs!
Black, brown, mixed race and indigenous folks are encouraged to apply, as are members of the LGBTQIA2S+ community. We respectfully ask that collage artists who have been working in the medium for some time and have an ongoing steady access to collage material do not apply.
Applications for the current quarter are open through June 15th, 2023.
Full details are as follows:
This project is intended for new and emerging collage artists based in the U.S., and who identify as BIPOC and/or LGBTQIA2S+ are prioritized for this project and are encouraged to apply.

Applications are open quarterly. Though we initially envisioned accepting applications each month, enthusiasm and high demand has indicated that it may be more feasible to have a quarterly application period. Our first application period was in May 2021, with packets distributed in July. We are entering our ninth phase of the scholarship in May 2023. Apply here!
After the application period closes, we will work to fill as many requests as we can throughout that quarter. Applicants will receive an email sent to the address on their application to get their current U.S. mailing address if and when their request for materials can be filled.
We are not able to fulfill requests outside of the U.S. at this time. International applicants are not currently eligible due to postage costs and the mailing restrictions of various countries. We hope to be able to offer resources to the international community in the future.
Applicants may receive one packet in a 12-month period. If your request could not be filled, please apply during the next application period. This is to maximize the number of recipients and spread the resources we have available as far as possible.
We continue to respectfully ask that you not apply for this scholarship if you have access to collage material on a regular basis. In the spirit of mutual aid, we are not evaluating applications based on a subjective perception of need. We are committed to amplifying the voices of BIPOC and LGBTQIA2S+ artists, and will do our best to connect as many new and emerging collage artists with materials as possible.
If you would like to help us provide more packets by making a donation towards postage and handling costs, visit our BuyMeACoffee page. That's a huge help — thank you so much! $7 funds the costs associated with the shipping and handling of one scholarship packet (shipping costs rose in January 2023). This is a grassroots project that is currently being funded solely by donations from the community and TCCC members.

If you have collage material to donate, especially if you are in the Twin Cities, Minnesota metro area, please contact us. We are not able to reimburse shipping costs for collage material donations at this time. Thank you for your assistance and understanding!