Interview: William Mellott
William Mellott is an American collage/mail artist based in Tainan, Taiwan. He was active in the mail art world at the tail end of the 80s until the mid-90s. He returned actively to collage and mail art in 2015. Most of his artistic pursuits center around paper collage, rubber stamp work, film photography, and artist books as well as zines. He founded the Cut and Paste nights at 182 Art Space with Liz Corso which meets once a month to encourage people to collage. This interview is a January 2022 written conversation between William and TCCC member allison, who know one another from the mail art community.
How did you get involved with mail art? Has it impacted how you create or interact with art?
One day I found the book "Correspondence Art" in the library. I must have been 18 or 19 at that time. That was the first time I recall hearing the term mail art or even knowing something like that existed. I ended up checking the book out multiple times. I regret never hunting down a copy to buy myself back then when it was affordable. I think I must have written to someone in that book, but I don't recall now how it all exactly began. I already had a lot of pen pals – when I discovered mail art, I wondered if what I had been doing all these years was mail art? The conclusion I came to is "sort of, but not really".

It's definitely impacted how I create and how I interact with things. Mail art has so many forms and ideas – there's always something new to discover. Unlike most work in a museum or a gallery you can actually touch it. I think this is a particularly important aspect of collage. That tactile experience. Not that you can't enjoy something without it, but it brings another level to the experience of the work.
It's interesting to hear you say that you feel your years of correspondence with pen pals was "sort of, but not really" mail art – did you participate in creative activities or unusual mailings with your pen pals? What is your personal definition of mail art?
For me, the main issue is intent. Mail art is intended to be art. That is the main focus. The shape and form of that is limitless just like in the mainstream art world. When I was penpalling (80s/90s) no one used the term mail art to describe what they were doing and when I asked people about it they didn't seem to be aware of it either. The decorated envelopes may have been artistic, but they weren't the main point of the mailings. Today I see it (mail art) commonly thrown around in the pen pal community. But for me, it's not really the same. There's a quote by John Held Jr. that goes something like "mail art is more than creative pen pals" and it seems to me that most of the time in the pen pal circuit it's more a case of creativity than an active intention of it being art. For me that distinction is important, but also doesn't lessen the importance of pen palling. I just don't think they should be lumped into the same group.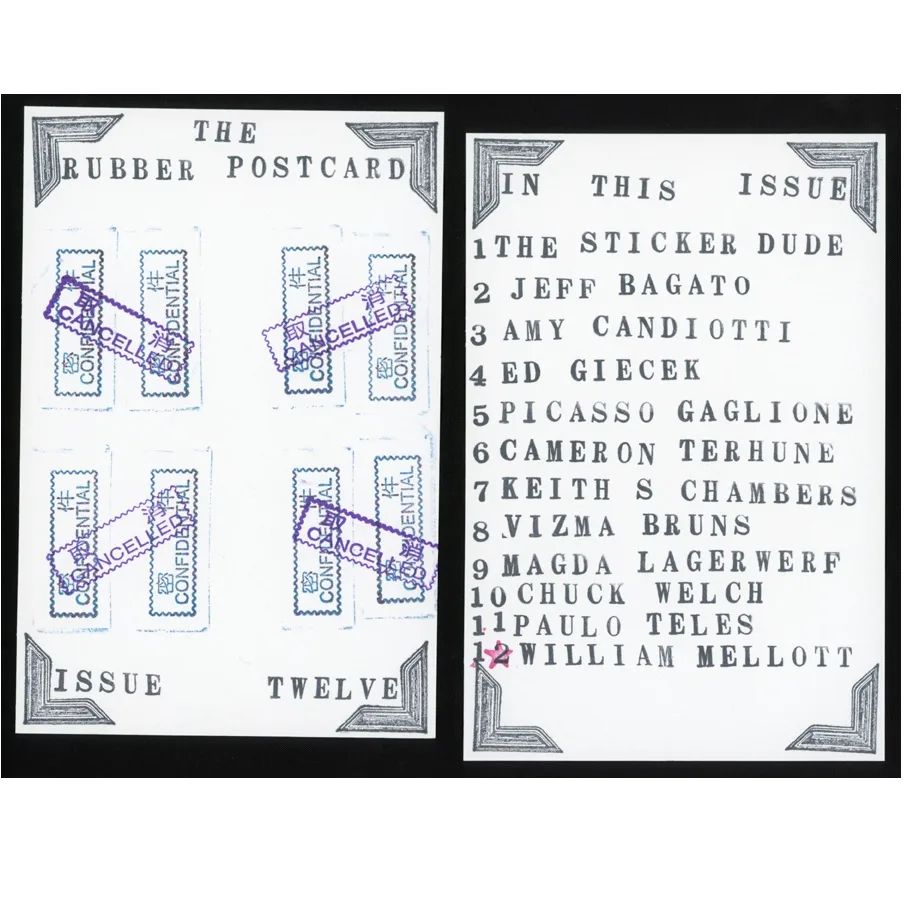 How does zinemaking fit into your art practice?
Assembling zines are some of my favorite forms of mail art. Sending work to Circulaire 132, Stampzine, KART, Wipe, Attic among others inspired me to start my own assembling zine devoted to rubber stamped images – The Rubber Postcard. In addition to the assembling zine I've started making mini (single sheet) zines. These allowed me to explore certain themes, compile work that had been sent out to different individuals (giving those pieces a new context as a group as well as access to a different audience). I approached some of these zines in the way I've approached some of the artist books I've made over the years – with a visual theme that is then explored within those pages. The zines have largely been rubber stamped whereas the artist books are usually done in collage. This year I'm hoping to make more zines and not just of the mini variety.
Assembling zines are less common than a booklet-style zine, and might be a new concept to some folks reading this, though more and more collage artists are beginning to experience assembling zines and mail art through RF Cote's Circulaire132! When did you first encounter assembling zines?
The first one I recall ever participating in was Cacophony In A Box. This was in 1995. In the end they ended up putting it in a bag and not a box. The people putting it together lived a few blocks away from me in Seattle (where I'm from originally) and were asking people to help them collate it. I really wanted to help, but my extreme shyness at the time stopped me from doing so. A lot of the mail art I received from that time has been lost, but I still have this one. Interestingly, people who more recently became mail art contacts – I discovered were also in this issue.

More recently, it was RF Côté who got me into assembling zines. He'd seen some of my early attempts at artistamps on Tumblr and asked me if I'd send him some for Circulaire 132. Which I did and then I just continued to send work for subsequent issues. Assembling zines are one of the best entry points into mail art as you are guaranteed to get something back and they are usually full of interesting work.

It was largely Picasso Gaglione's Stampzine that inspired me to finally start my own assembling zine. He's been doing a version of that off and on since the late 70s (I think the first one was in 79).

Because of the pandemic, regular air mail from Taiwan to a lot of other countries has been suspended. So some people I can't send work to directly – can still receive my mail via an assembling zine. That's been a real blessing during these difficult times.
Tell us more about The Rubber Postcard, too! What is the process of creating an issue of the zine like from start to finish?
Well, the process is quite simple. I send out a call for people to send in rubber stamped work. 13 cards 4×6 inches. All rubber stamped by hand. I wanted the call to be simple and not too time consuming. I also wanted to focus on rubber stamp work as most assembling zines are collage based. So The Rubber Postcard is rubber stamp work only. There is usually no theme per issue (so far the only exception to this was issue 10 which was a found/object stamp issue). I have a notebook where I note who has sent work in and I use a shoebox to store submissions that have arrived as well as past issues of the zine. Once I have received enough submissions for an issue I stamp out a cover and submissions page then I spread out the various entries onto my coffee table and collate the various issues into small envelopes which are then mailed.
What is your process like for approaching an artist book? Do you start with an idea of size or binding type, or adapt a project to what you have available to use? Do you have a favorite artist book that you've made?
Well, it's a bit of all of that. Some are created to try out some specific type of binding. Several years ago I bought a book on bookbinding that has instructions for various techniques. I'd sometimes pick one of those and bind the book then decide what would go into it. Other times I'd have an idea for a theme. There's one I made called "A New Head". I cut out pictures/illustrations of people then I cut off the heads and drew/painted heads with sumi ink that I collaged in place of the missing heads. Another features collages made from vintage ephemera a friend sent me. I don't think I have a favorite of the ones I've done. Of the ones I have here (some have been sent out to people in the mail art world) – maybe some from the Cut and Paste nights at 182 or the two I mentioned above. Or maybe one I did that is accordion style and features pictures I shot with a Holga at the First National Car Forest in some small town in Nevada.
What subject matter are you drawn to in other art or media and how does it relate to the art you create?
There are things I'm drawn to just because I like the material used. So obviously collage, or things postal related. I wouldn't say there is a specific type or theme I look for in particular. When I go to see work in a gallery or museum – I'm usually open to see what is there. I like to see the different ideas and work someone is doing even if it's not something i'm over the moon about.

I think it all inspires me in different ways. The world around us is inspiration. That may be a book I'm reading, a film I've seen, a record I'm listening to, conversations with people, etc. There are probably some things that are a more obvious inspiration, but I try not to think or dwell on where the ideas come from too long and just go with where they want to go.
Where do you like to find your materials?
Nearly all my collage material has been found at used book stores or thrift stores. Some has been given to me by various contacts. Old books have the benefit of different textures and the printing processes are more interesting to me than most modern printed books. I try to avoid materials made for scrapbooking or crafting(i.e. stores like Michael's or Joann's).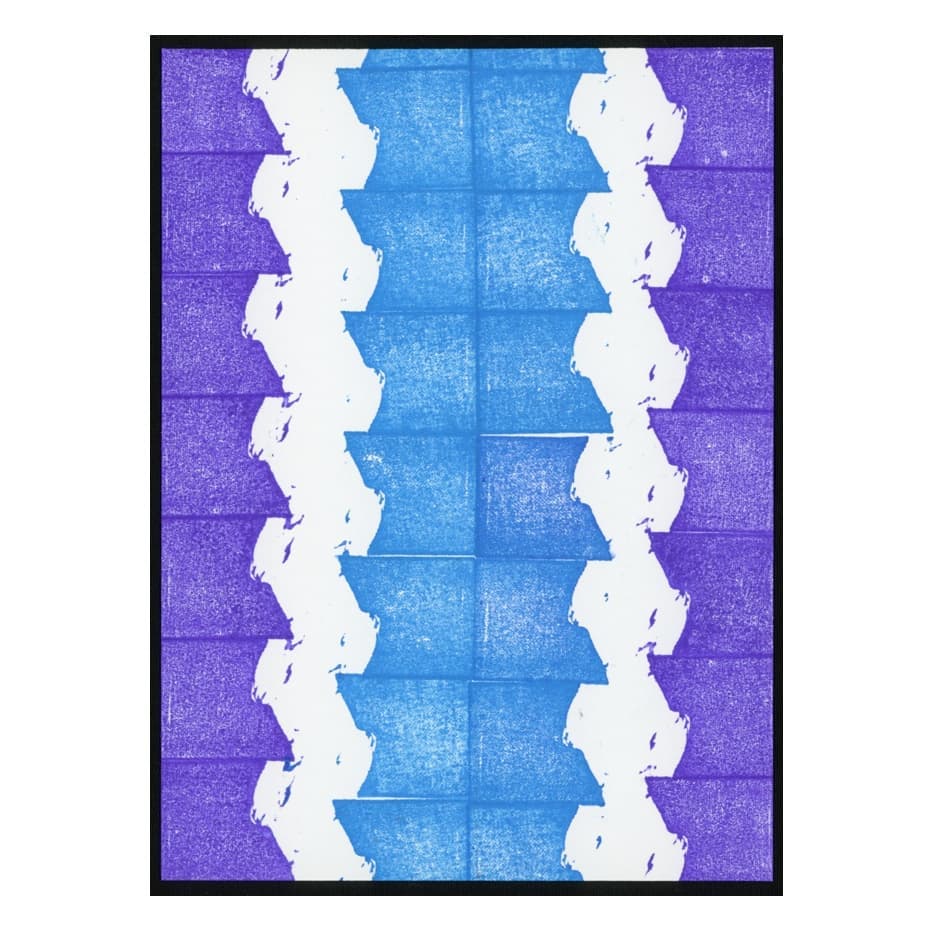 What type of adhesive is your favorite for collage? Do you use different adhesives in mail art i.e. collage on an envelope? Do you have a preference for a particular cutting implement, like scissors or a blade? It's always interesting to hear about these kinds of preferences!
I usually use a glue stick (Simbalion brand) in conjunction with double-stick tape. If I'm making a collage that will be sent "naked" through the mail then I usually use a combination of these two to make sure nothing falls off. However, sometimes the double-stick tape may cause problems if the material is damp or something. I have a few artist books I made at Cut And Paste that now have a sort of bleed through from the tape. I loathe things like Mod Podge simply for the fact that if you live somewhere hot and humid like I do it can melt and ends up eating anything it's next to. This is especially a problem for books where pages touch.

As for cutting instruments I almost always use a pair of scissors or just rip/tear the paper. I've never been very good at using an Exacto knife for some reason. I know they can be good for getting clean close cuts. But for my own work usually that's not so important.
Tell us about your creative community in Tainan! You host a collage night at 182 Art Space. What are your meetups like? Are there regular activities that you do, or is it an open session of working on projects?
After reading about similar things in an old issue of Kolaj Magazine – I wished there was something like this in Tainan. My friend Liz Corso (who has since moved to Paris) and I decided to start one and our friend Jack Chen who owns 182 Art Space volunteered space. We don't have any regular activities. We did do some collaborations in the early days. Originally we'd ask people to bring something to donate to the "materials box" but we have more than enough material for people to use now so are not in need of donations. Basically we wanted a safe, non-judgemental space for people to play with collage. The turnout has been up and down over the years. For a while there were quite a few university students who would come. Lately it's dwindled down to a small group of 4-5 people or less.
Has the pandemic changed the way you connect with other artists locally or in the mail? There were mailing restrictions during parts of the pandemic between Taiwan and some other countries like the U.S. – did that result in any confusion with your regular mail art correspondents?
It's still affecting things. We had to cancel Cut And Paste for about 5 months because of the pandemic. Taiwan has been very lucky compared to most other places so we've largely escaped major lockdowns and a large number of cases. However, the mail is still being affected. I haven't been able to send regular air mail to Italy or Spain (and many other countries) in 2 years (or more). For a while I couldn't mail to Australia or Canada. Oddly, mail would be suspended going to these countries, but I could still receive mail from them. Luckily mail to the USA was never suspended. Some of my contacts would think that mail suspension was universal, but it wasn't. Every country had different rules about where they could and couldn't send mail. I check the Taiwan Post website almost daily to see if there's any news about air mail services resuming to certain countries.
Are there any rituals or habits you perform before creating, or do you just jump right into it?
Usually, I just sit down and start cutting things up. Sometimes I may know I want to do something in particular (headless people, circles,..), but most of the time the materials will lead the way into what the collage becomes in the end.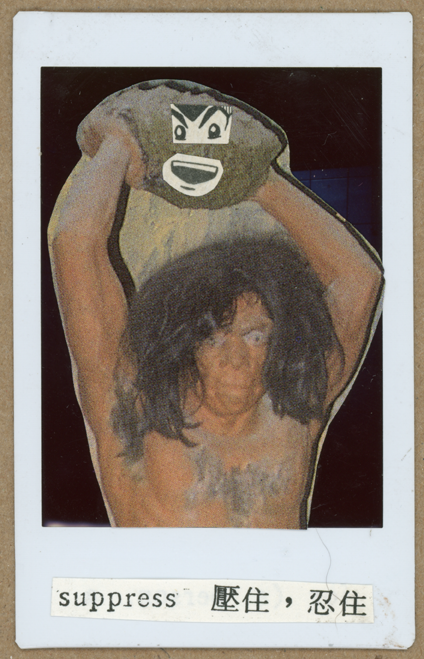 How do you approach collaboration? Does it differ from how you approach your individual work? What are some of your favorite collaborative projects or artworks that you've been involved with? Do you most frequently collaborate with other mail artists? Are there elements of collaboration at the in-person Cut and Paste events you host?
For collaboration it depends on who I'm working with and what the purpose is. I've done a lot of artist trading card (ATC) jams with people. But sometimes people will play it too safe – almost scared to put anything on top of other people's work.

One of the most successful collaborations was with my friend Liz. We separated a deck of playing cards by color. The black cards were given black and white backgrounds. The red cards color backgrounds. We then traded them back and forth a few times adding things. We'd meet at a cafe, trade our half of the cards, go home and collage on them, and then meet up again to trade again. We'd do this about three times until we felt things were finished. In the end we'd have half a deck of cards in black and white and half a deck in color. Before starting we set up the rules of "anything goes" so that neither of us felt like we had to be "nice". Liz and I have plans to collaborate on a collage minizine. But work hasn't started on that yet.

A lot of other successful collaborations involved rubber stamps. Most notably ones I've done with Angelica Paez in Texas and Vizma Bruns in Australia. One person would send a card with some stamping on it and the other person would finish it with some more stampings. Sometimes doing two cards so each person would have one to keep in the end.

At one of the early Cut And Paste events someone brought an old painting they were not happy with and we all sat around a table collaging on top of the painting. That was a different experience for me because it was a group working at the same time on one piece. Whereas most collaborations I've been involved in had one person working on it at one time.
And of course, an important question for any mail artist… what are your opinions on the phenomenon of the add & pass? (For those unfamiliar, an "add & pass" is usually a sheet of paper with a small amount of material on it, sometimes photocopied, sent to a mail artist with instructions to "add" and then "pass" the work to someone else. One of the fun things about them is that the work's completion is fairly nebulous. There are a lot of jokes and even complaints about add & passes within the mail art network – some folks hate them, others love them – they're polarizing!)
Ha! I used to really not care for them. But over time I've grown to appreciate them more. I don't think very hard about them. I think they are simple and quick to do. They can make a good addition to a mailing, but I'm not overly fond of them if there are too many sent at once – or the only thing that is sent. Often Add To and Returns are more interesting. They have a clearer purpose/focus in what they are trying to achieve.
Do you think that rubber stamp art and collage share a relation? When looking at your rubber stamp work, I often find myself considering it as a different kind of collage or visual assemblage, especially with some of your very precise stamped compositions (so inspiring!)
For me, they definitely do. I think they share more with printmaking in general (I often think of it as lo-fi printmaking). I think the way I use stamps has changed over time. I started doing a lot of collage again around 2012 or so. At that time I had very little interest in rubber stamps (I regret being in Vegas in 2014 and not going to Viva Las Vegas Stamps – my stamp obsession wouldn't return for a couple of more years). When I started using stamps again I found that I looked at them the way I would material for collage. The way I'd put stamped images together was similar to the way I would think about putting images together in a collage. I also started to do a lot of masking when applying the stamps. That lent itself well to looking at the stamps as elements in a collage. My friend Paul Mysterioso has done intricately masked rubber stamp pieces for years and he was definitely an influence on my own experimentation with this technique.
Are there any creative endeavors you'd like to explore that you haven't yet tackled?
I'd like to experiment more with using carbon paper. I'd also like to do more simple printmaking. Something else I'd like to do or do more of is bringing in different types of work I do into collage. So using rubber stamps in my collages or my own photographs as source material. I've done a little of this, but I think there's more to be explored here.
When assembling a piece, what creative elements are most important to you?
I usually focus on the composition and the color. Ideas usually develop by themselves as I'm putting the different elements together or seeing what works. Meaning may become apparent as it's coming together or sometimes not until the end. It really just depends on the piece and what I'm thinking about at the time.
Do you seek out inspiration or does it come to you on a whim?
Most of the time I don't think about it. I just sit down and see what happens. If things are not working I may just take a break. Other times I just have to make pieces I'm not happy with to get to the work I am happy with. Of course, pieces I personally don't like very much are sometimes appreciated more by others.
What purpose would you like your art to serve – or what sort of feeling are you trying to convey through your art?
It really depends on the piece. Some are political, some whimsical and being gay all of the work is queer even if it's not directly/obviously so.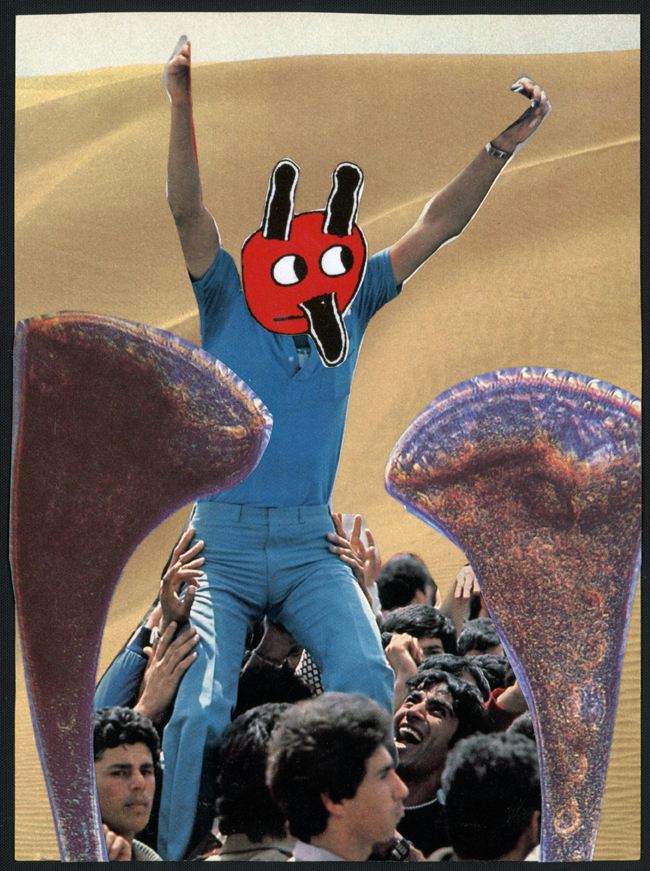 I'm curious to learn more about how queerness shapes your work, and your perspective on queerness in art. As mentioned above, some of your work engages with these themes in a more immediate and obvious way, but it's something that's always present. This is a big question, but I'd love to hear more thoughts on the subject from you.
Well, my thinking on this(and I'm still evolving my ideas on it) is that if you are queer – you can't erase that part of you. Everything you do is in effect queer – because that is part of who you are. It can't help but filter into what you do. Sometimes in more obvious ways and sometimes less.

Because it's not something I've always expressed – it became important for me to do some work that was more obviously queer. My friend Angelica Paez gave me some gay themed rubber stamps which allowed me to do just that. It sort of opened the floodgates towards doing work about sexuality or work that was more explicit – or it just gave me an outlet for doing such work. That work isn't necessarily autobiographical, but there's no denying it's directly queer.

I don't see a lot of obviously queer work in the mail art network. I don't know if I'm just missing it or if it's just not there like it was before. So maybe in my small way I can add a little queer visibility to the network.
Do you ever have any worries or hang-ups about sharing your work with others? Do you have works that only your eyes have seen?
Yes. When I think the work isn't good enough. Usually this is because of not being happy with the composition or something in the piece. Most of the time I'll post it anyway – as part of the process. The work that is more explicit/sexual I'm sometimes wary of posting. I do anyways, but sometimes don't know how it'll be received or if it'll get censored or not. I find most of that work amusing, but I'm not sure how serious others may take it.
I usually spend a lot of time thinking about the work, what it means and what I'm trying to do/say with it. I worry sometimes that someone will misunderstand and take it the wrong way or just plain miss the point. People can be so literal sometimes. Of course I also like people to take their own meaning away from a piece. Perhaps that's a bit of a contradiction.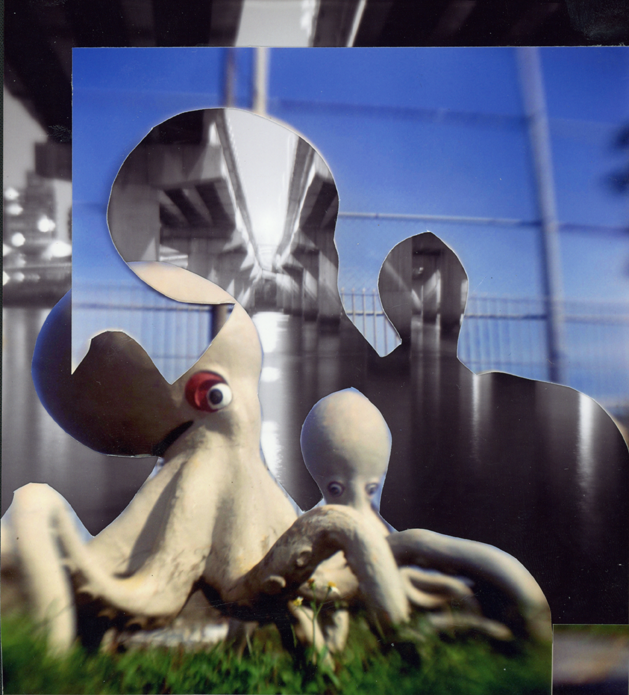 Do you ever go back and revisit work that you aren't happy with to make additions or changes? Does that work ever get revisited as a collaboration?
Very rarely. I usually work small. Usually postcard size. Most work will be finished in one sitting. Once it's done it's done. I want to move onto something else. The work at Cut and Paste may get revisited. Mainly because I may not finish a piece before it's time to go and I'll leave it until our next event(usually a month).
Who are some contemporary artists or creative colleagues that you're always excited to see work from?
Difficult question. I'm sure to leave someone out. But I'll throw a few out there:

Angelica Paez. She's a good friend and does fantastic collage and rubber stamp work. She's also the person who encouraged me to join IUOMA and get back into mail art.

Picasso Gaglione. I doubt my assembling zine would exist if it wasn't for Picasso. He's done so many interesting things(and continues to do so). Performance, rubber stamp work, zines, catalogues, histories…

Chuck Welch (Crackerjack Kid). He is always doing something interesting. Collage, performance, artistamps, rubber stamps. He always seems to be pushing in some direction – political or whimsical.

Stephen Fowler. His continual experimentation with lo-fi printing methods is inspirational and his book Rubber Stamping is a must have as far as I'm concerned.

Bonniediva. Hilarious and irreverent. She's one of the inspirations for my own attempts at mini-zines.

Charlotte Geister. Does amazing collages which often include stitching. Multiple layers which are really something to see.
---
Many thanks to William for sharing his perspectives and work with us! Connect with William and learn more about his work on Instagram, Tumblr and IUOMA. You can also read other Twin Cities Collage Collective interviews with artists on our blog.