Kolaj Live Online: Collage Communities Forum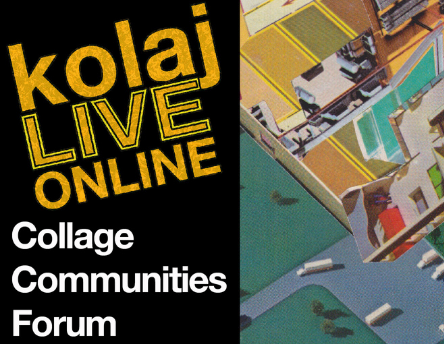 TCCC member allison anne will be part of Kolaj Institute's Collage Community Forum on Saturday, November 21st with an amazing group of international collage artists who are also involved with creating community in this medium. Register at www.kolajinstitute.org.

Collage Community Forum
presented by Kolaj LIVE Online
Sat, Nov 21, 2020 1:00 PM – 2:00 PM EST
Free / Online via Zoom / Registration Required

About the event: "Collage is unique in the larger art world in that communities and collectives play an important role in the production and promotion of the art form. Collage groups organize exhibitions, run online calls to artists, facilitate exchange across borders. In this virtual forum, leaders of collage communities in North America, Europe, and Latin America will share their experience bringing artists and collage enthusiasts together. Our hope is that this forum will deepen our understanding of collage communities and inspire others to create new ones."

About Kolaj LIVE Online: "Kolaj LIVE Online is a series of virtual programs in the form of forums, panels, workshops, artist talks, studio visits, and other activities that allow people to come together, learn and talk about collage, and connect in real time to the collage community. Our goal is to bring the community together in a spirit of mutual support and fellowship. Kolaj LIVE Online manifests Kolaj Magazine and Kolaj Institute by bringing together artists, curators, and writers to share ideas that deepen our understanding of collage as a medium, a genre, a community, and a 21st century movement."
Speakers:
Christopher Kurts is the co-founder and organizer of the Mystic Krewe of Scissors & Glue, a New Orleans collage collective that meets monthly for casual collage nights in addition to working on collaborative projects and group exhibitions.
Kevin Sampsell used to host an open collage night in Portland as well as managing the collage making space at Kolaj Fest New Orleans. Sampsell, along with Cheryl Chudyk, have recently begun Sharp Hands Gallery, an online journal with each issue acting as a curated exhibition.
Petra Zehner founded the Paris Collage Collective in 2018 in order to connect both local and global artists on a more personal level than what is possible on social media platforms alone.
Marty McCutcheon is the founder and organizer for Round Table Collaboration, whose main activity is the Postal Collage Project, an annual mail-art collaborative collage project.
Miss.Printed is the founder of The College Club, an international group of collage artists. She is also the founder of the Collage Garden project and The Scandinavian Collage Museum.
Marco Antonio Núñez founded Centro de Estudios del Collage in order to trace, connect and make visible collage in Chile.
Allison Anne is a collagist, mail artist and zinemaker living and working in Minneapolis, Minnesota. After coordinating a few informal meetups under the same name in 2017, they co-founded Twin Cities Collage Collective with several other artists in the Minneapolis/Saint Paul area. The group strives to foster community and further collage by providing an inclusive, safe space for individuals at all levels of creative ability to explore the medium.
As Editor of Kolaj Magazine, Ric Kasini Kadour has been following and writing about collage communities since 2010.